Angela
Moderator
@CDDiva
Post count: 232
I don't remember mentioning Canva myself in these posts, but I don't care for them, and yeah, would definitely be careful with them.
With my PLR that you mentioned (the Fairies) yes it is PLR, but you can not resell as PLR nor sell or give away the source files. In the case of this product, you can do everything but resell as PLR… you can resell as MRR and down the line…. You do get the PPTX files, so you can create a new PDF that is not branded, but as above, only sell as MRR, and your customers can be given MRR rights if you choose, or personal use only, your choice.
I do have some PLR that is as you mentioned above, but I am trying to now separate those products to their own niche sites, hence GreenContentPLR.com and WhiteBirdContent.com are both PLR and MRR product sites.
As I said, each product should be read over, as sometimes there may be variations. I see I forgot to add the terms on the page as I did some others, but in any case, my own personal PLR products will sometimes give you extended PLR rights, such as you mentioned, but will ALWAYS give you MRR at the very least, if they are marked PLR.
Below is a copy of the license terms for the Fairies.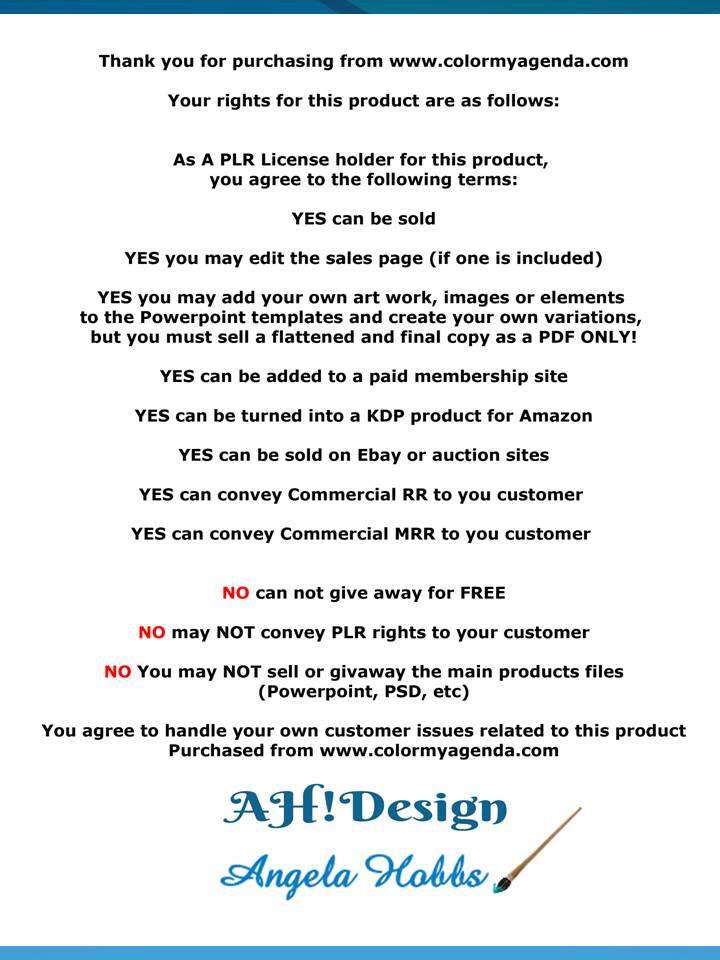 ---
Plan Your Life In Color!